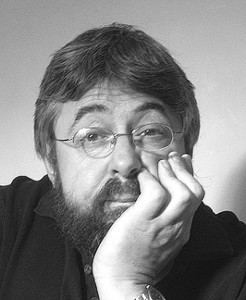 Simon Wills was a lutenist and continuo player, switching to the trombone after a hand injury.  After a spell in the Teatro Massimo in Palermo he joined the London Symphony Orchestra and for 14 years was also principal trombone of the Chamber Orchestra of Europe. He played with the Fires of London in its last years, works regularly with the London Sinfonietta and at the Royal Opera House and has been a member of Endymion since the beginning.   His interest in early music is as great as his enthusiasm for the new, and he has played with the Balthasar Neumann Ensemble, Freiburg Baroque Orchestra, Academy of Ancient Music and Orchestra of the Age of Enlightenment.  He makes irregular forays into early music scholarship.  His main interest is historical rather than musicological; he contributed articles to the Cambridge Companion to Brass but thinks his best work was a paper delivered at the Royal Academy, which used historical methods to place the social and economic status of Victorian musicians in precise relation to that of Mr Alfred Pooter in The Diary of a Nobody.
He has a growing reputation as a conductor and as a controversial theatrical composer.  His most recent opera, The Secret Agent, to his own libretto and adapted from Joseph Conrad's novel, attracted European-wide attention in its first run at the Feldkirch Festival in Austria.  It deals with terrorism and domestic violence, and ends with one character suicide bombing the audience.  A gentler piece, the  surrealist pantomime A Day Close to Summer was commissioned by Baden Baden Festspielhaus to a scenario by Tatjana Gurbaca.  It is a "prequel" to Dido and Aeneas, showing the characters in that work before their wartime traumas.  The music was praised but the sexual content – and decision to place it on September 3rd 1939 – provoked a demonstration in the theatre.  His setting for double chorus and soloists of of Theodor Fontane's ballade Die Bruck am Tay  was performed at Bad Kissingen and Feldkirch the following year, without audience protest, and his Sinfonietta for baroque strings was subsequently toured by the Balthasar Neumann Ensemble under the patronace of the Goethe Institut.  His Prelude and Fugue upon Quem Pastores Laudavere is a Christmas favourite in Germany (last year it was played by the Berlin Philharmonic) and his orchestral arrangements for the Emmy-winning Abbado/Spitting Image Prokofiev Fantasy are in repertoire as a ballet at Dusseldorf Opera House.  2009 sees the premiere by the Tonhalle Orchester Zurich of his symphonic poem The Island, commissioned by the Zurich Festival, a revival of Die Bruck am Tay and the first performance and recording of his Chamber Symphony.  Credit crunch permitting, another opera – a comedy this time – to a libretto of his own is planned for 2011.
His work as a conductor began when he took over direction of the Stockholm premeire of a concerto composed for Christian Lindberg.  In 2007 he conducted what is believed to have been the first complete performance in Uganda of the Mozart Requiem, at Namirembe Cathedral outside Kampala.  Exotic travels with a baton have recently included the Turan Alem Orchestra in Kazakhstan, Stockholms Landskonserter and Cyprus State Orchestra.  Since 2008 he has been a transatlantic commuter in his new job as artistic director and chief conductor of the newly conceived Trinidad National Symphony Orchestra.
He has been a professor at the Guildhall School of Music and Drama since 1986 and was elected a fellow in 2000.  His main role now is as conductor of the the Guildhall Ubu Ensemble, a group devoted to the more extreme areas of the modern repertoire.  He has been a visiting professor at the Conservatoire Superieure in Paris, Tallinn Academy, Almaty Conservatoire, North Texas State University and Sapporo Academy and is programme consultant to the Academy of Performing Arts in the University of Trinidad and Tobago.