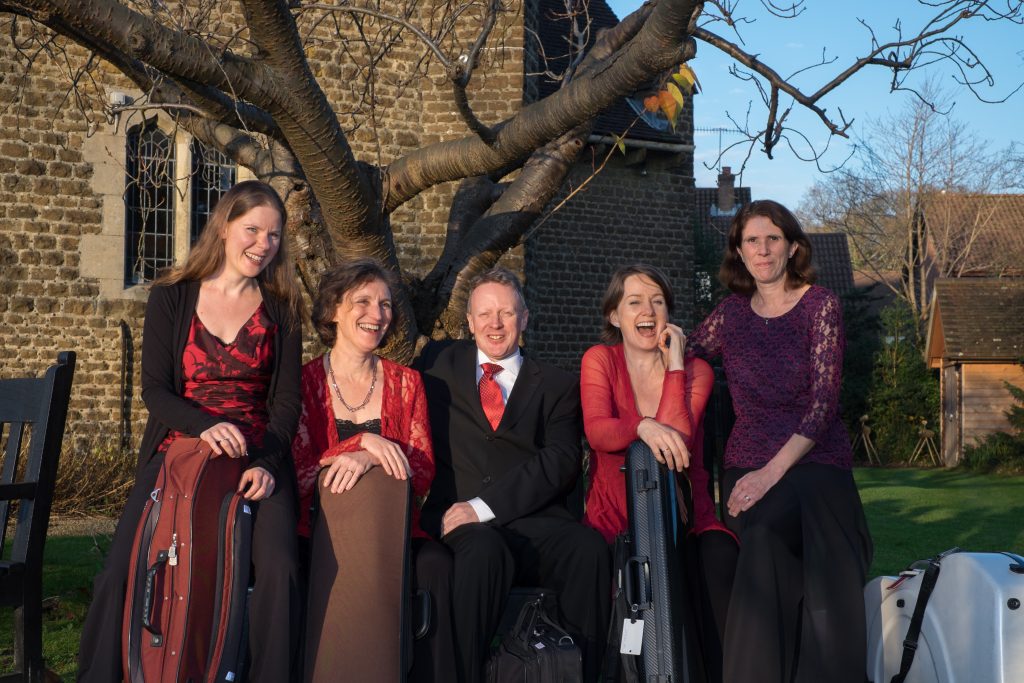 "a powerful sense of energy and mystery evoked by Endymion" – The Daily Telegraph
"profound performances of the impossible" – The Guardian
"the brilliant Endymion" – The Sunday Times
"Endymion always communicate the pleasure they experience in music making" – The Times
"The brilliant Endymion" (Sunday Times) exists to deliver world-class performances of chamber music throughout London, the UK and abroad. It nurtures the UK's most dynamic and original composers, inspires younger and new audiences and champions mixed chamber music of all genres through performance, commissioning, recording and promotion.
Since Endymion was formed in 1979 from a group of outstanding National Youth Orchestra students, it has built a secure reputation across a broad and often adventurous repertoire and won a strong following among audiences throughout the UK and abroad, touring in Ireland, Italy, Spain, Finland and Mexico. Unusually for chamber groups so well established, Endymion retains most of its original players. These performers now number among the best soloists and chamber musicians in Europe, including Mark van de Wiel, Stephen Stirling, Melinda Maxwell, Michael Dussek and Chi-chi Nwanoku MBE. Celebrating its 40th anniversary in 2019, Endymion has been called one of the few chamber groups as much at home with Mozart as with Birtwistle.
Endymion has made a speciality of 20th century music theatre and chamber opera, including collaborations with the Royal Opera House's Garden Venture, Women's Playhouse Trust and Opera Factory, with which it undertook a European tour of Dido and Aeneas and Curlew River in 1995.
Endymion has appeared at most of the major British festivals, giving its tenth Proms performance in 2014, and was in residence at Blackheath Concert Halls for several years
A retrospective of Anthony Gilbert's music featured a dozen especially composed musical tributes by distinguished contemporaries, including Birtwistle, Maxwell Davies, Alexander Goehr, Colin Matthews and Anthony Payne. Endymion's collaborations with the BBC Singers have included world premieres of Giles Swayne's Havoc (Proms, 1999) and Edward Cowie's Gaia (2003), as well as the UK première of Birtwistle's Ring Dance of the Nazarene at the 2004 Proms ("startling virtuosity from all concerned" – Daily Telegraph).
A particularly successful and much imitated innovation is the wide-ranging series of Composer Choice concerts staged by Endymion at the Southbank, which has included Harrison Birtwistle, Peter Maxwell Davies, Oliver Knussen, Gavin Bryars, Mark-Anthony Turnage, Judith Weir, John Woolrich and Michael Berkeley.
Endymion celebrated both its 30th and 35th birthdays at Kings Place. In 2009, the ensemble performed commissions by 20 British composers, and the celebrations in 2014 took the form of a weekend of concerts focused on Brahms, and a programme of music for flute, viola and harp. The 30th birthday commissions were recorded for NMC and joined a host of other discs by Endymion including works by Lutyens, Stravinsky, Britten and Magnus Lindberg and (with the Dutton label) York Bowen, Edmund Rubbra, Thomas Dunhill, Lennox Berkeley, Erno Dohnanyi and Zdenek Fibich.
Endymion's members are (click the names for more info): Helen Keen (flute), Melinda Maxwell (oboe), Mark van de Wiel (clarinet), Robin O'Neill (bassoon), Stephen Stirling (horn), Bruce Nockles (trumpet), Simon Wills (trombone), Michael Dussek (piano), Helen Tunstall (harp), Krysia Osostowicz (violin 1), Clara Biss (violin 2), Asdis Valdimarsdottir (viola), Jane Salmon (cello) and Chi-chi Nwanoku (bass).