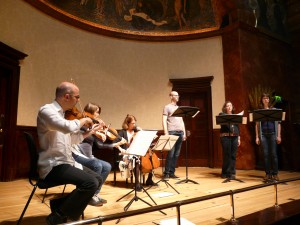 We were delighted with our late-night performance of Arvo Pärt a few weeks ago at Wigmore Hall with the wonderful EXAUDI.  We performed in Wigmore Hall's new late-night series, at 10pm on Friday 8th July.  The hall was really full (busier than for the 7pm concert that night!) and the atmosphere was really serene and concentrated, for four contrasting pieces of Pärt:  Fratres, Summa, Pilgrim's Song and the Stabat Mater.
Geoff Brown reviewed for The Times:
"One Arvo Pärt work followed another, from the chord sequences of Fratres to the measured sorrows of his Stabat Mater setting: music of rapturous, daring simplicity, vigorously etched by a string quartet drawn from Endymion and three of Exaudi's fearless voices."
This was the first performance in a line of Arvo Pärt performances, not least our large Music for People project at Southbank Centre on 19th and 21st September, when we'll be joining up with EXAUDI again to perform more Pärt, plus some Morton Feldman and four new commissions from James Weeks, Joanna Bailie, Andrew Hamilton and Philip Venables.  More to follow on here soon, but book your tickets now
Monday 19th September: Pärt, Venables, Bailie.
Wednesday 21st September: Feldman, Hamilton, Weeks.
The photo here is us rehearsing the Stabat Mater in Wigmore Hall on the morning of the concert.