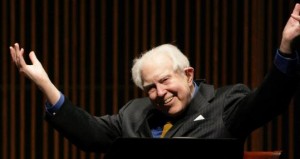 We're delighted to announce that Endymion's performance of Elliott Carter's Clarinet Quintet (2007) will be the UK Premiere.
The performance, featuring Mark van de Wiel (clarinet) with Krysia Osostowicz, Clara Biss, Asdis Valdimarsdottir and Adrian Bradbury, will take place on Tuesday 10th May at All Hallows Church in Twickenham, as part of the Richmond Concert Society series.
Elliott Carter, the American composer, is one of the biggest figures in contemporary music alive today, and arguably the oldest, at a magnificent 102 years old.  He has won two Pulitzer Prizes and his work exemplifies a combination of neo-classical and modernist approaches, all carefully worked in a rigorous but musical scaffolding of atonal harmony and form.
This Clarinet Quintet, written in 2007 and premiered in New York in 2008, is a wonderful example of Carter's mature work, and we are absolutely thrilled to be giving the first UK performance!  Do come and join us for this historic event.
More information is available here.