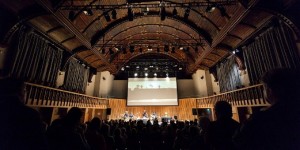 We're delighted to announce two new concerts happening this November that have just come onto the diary.
We'll be repeating a part of our fabulous GOODBYE STALIN! series on 4th November as a guest of Opera North, at their fabulously renovated Howard Assembly Room (pictured above).  The full programme links Shostakovich, Schnittke and Arvo Pärt, including the two famous piano quintets by the two dead composers.
The Russian theme of the programme fits in with Opera North's production of Tchaikovsky's Queen of Spades next season.  Keep a look out on their website for more information about that, and our concert, and tickets and things.
The second concert is at Alleyn's School in Dulwich, South London, where we'll be performing favourites for Piano and Winds by Mozart, Beethoven, Ravel and Poulenc.  This breezy tour through France and Germany will feature pianist Michael Dussek (who also features in the Leeds programme!), and we'll also be coaching chamber ensembles of students during the day.  We're looking forward very much to inspiring their pupils!  Check out their site for more info about tickets.
We hope you can join us at one or other concert.